One of Charny's Questions on War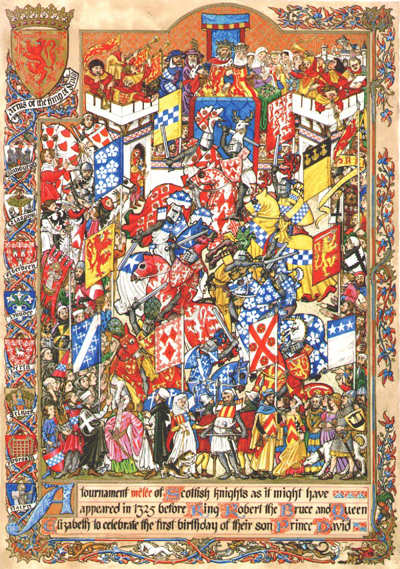 Back in 2001-2 I translated and interpreted Charny's
Questions on the Joust, Tourneys and War,
which I eventually turned into the Chivalry Bookshelf title
Jousts and Tournaments
(see sidebar for a link to the publisher).
Charny was a French knight of the first half of the 14th century, an active campaigner, a commander of armies, and man who was of some influence in the court of King Jean II. King Jean inherited a losing war from his father, Philippe VI, and one of his efforts to turn things around was the foundation of an early royally-sponsored order of chivalry, the Order of the Star.
In connection with a meeting of the Order, Charny wrote three sets of questions, concerning "the law of arms" as it applied to the three characteristic activities of "men at arms," jousting, tournaments, and war. Some of these questions were philosophical, most were technical discussions of subjects like the proper running of a tourney or the rules governing ransoms, but all of them were raised for discussion without any answer being provided. And indeed for most of them it is difficult to see that there would have been an unambiguous or generally accepted answer. (Charny several times says after outlining a case, "many good reasons are given on either side," or some similar phrase.)
I sometimes think that if there were answers given, this would be among the most famous texts on chivalry, but as it is it's pretty obscure, indeed not properly published or easily available even to scholars. I've done something to make the jousting and tournament questions more accessible, and now I'm going to try to do the same for the more numerous and difficult war questions.
Here's a preview as I start reviewing my draft translation, one of several questions that opens up a whole range of new possibilities. Who would have imagined this scenario would even be a debating point?
85. Charny asks:
A hundred men at arms are in the field all prepared to fight against a hundred others, all of them as good and as well mounted as they are, and the horses on either side are completely armed, and well covered, because they have promised to fight on their horses as long as their horses can last, if they are not killed at the hands of their enemies, and without any advantage from deceit. One of the parties does not have any weapons except for their hands, but they have good spurs on their feet; those in the other party each have a good sword in their hands but no other weapons, but they have no spurs and can't get any. Which of these would you rather be?
Comments welcome.
I've borrowed the beautiful modern depiction of a 14th-century tournament from the
Heraldry Society of Scotland.
Try clicking on the image for a bigger version.
Labels: Charny, medieval history, war and peace